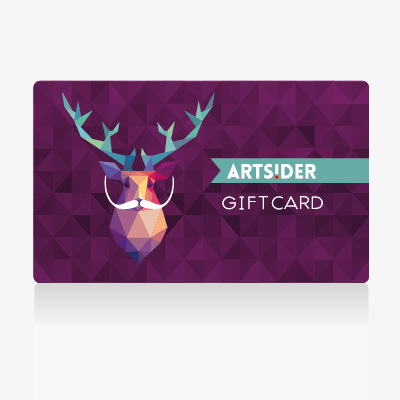 Artsider Gift Certificate
The pressure's off. Now your friends and family can choose almost anything that Artsider offers in its huge collection of prints and products. Just give an Artsider Gift Certificate and the recipient can choose from all our products. Buy one or more online in various denominations from $25 to $500. See the Gift Certificate terms and conditions below.
Terms & Conditions
Artsider Gift Certificates are issued and managed by Artsider, Inc ("Issuer") and can be applied only to purchases of eligible products from Artsider.com. Purchases are deducted from the Artsider Gift Card balance. Any unused balance will be placed in the recipient's Artsider Gift Certificate account when redeemed. If an order exceeds the amount of the Artsider Gift Card, the balance must be paid with a credit card or other available payment method. Artsider Gift Certificates are not redeemable for cash (except as required by law), cannot be applied as payment to any account; cannot be reloaded, resold, transferred for value; cannot be used to purchase additional Artsider Gift Certificates and cannot be used for purchases for shipment outside the United States or for any other products or services as determined
by Artsider in its sole discretion. Artsider's Returns Policy governs all purchases made with an Artsider Gift Certificate. Artsider is not responsible for any loss or damage resulting from lost or stolen gift certficates or use without your permission. Artsider will have the right to close customer accounts and bill alternative forms of payment if a fraudulently obtained Artsider Gift Card is redeemed and/or used to make purchases on Artsider.com. Void where prohibited or restricted by law. Use of this Artsider Gift Certificate is governed by the laws of the State of California. Receipt of an Artsider Gift Certificate does not guarantee purchase of any item. Artsider Gift Certificate terms and conditions are subject to change without notice. TM and © 2011 Artsider Inc. All rights reserved.